Tech Socials are the fun way to connect with the actual tech community. Pleasant, down-to-earth people show up, connect with everyone, make friends, and have nifty conversations. Show up at 7, give your name at registration and get a nametag, smile, go in, talk to everyone, have fun, done. (Jan 23 note: confirmation emails broken... bug. Sorry. Just give your name at registration.)

Who attends?
Your new fishing (not phishing) buddy. And h4ck3rs. Hacks. Developers. Engineerds. Designers. Data scienticians. Venture ¢apitalist$. Venture communists. Entreprenerds. DevOps heretics. Programmers. Brogrammers. General tech enthusiasts. Full-stackers. Killer robots. Database experts. Sapiophiles. Hardware hooligans. Partners. Journalists. Social mediaphiles. Cloud architects. Network specialists. Writers. Machine learning goofballs. Product managers. Mentors. Accomplices.


Tech Socials:
are full of genuinely friendly folk who actually understand the stuff you're saying

are run for people in one of the loneliest industries, so nobody will judge you negatively for coming alone or bringing 20 friend

s, they'll still treat you right (actually, since most people recognize that coming to an event solo can be a bit intimidating, they'll respect you more for having the courage to do so)

remind of what it's like to be human after 10+ hours of LCD tanning

bring together people from all walks of life -- dev enthusiasts, design aficionados, crypto addicts, hardware hackers, social media mavens, etc.

are discrimination-free 'safe space' for nerds; you can relax, drop the image, and just be yourself since you're surrounded by chill, welcoming people

have a strict no-dirtbag policy

SuperConnect gives you 10 seconds to share who you are, who you want to meet, and something you care about. The format discourages obnoxious pitching and is low-stress even for introverts; it's too simple and quick for you to feel overly nervous. Participation is optional. Feedback has been universally positive. Come early, don't miss out!


Example:
"I'm Pepito. I run DevOps at a shoe store and want to meet a cofounder for my intelligencemachinecryptoblock app for chihuahuas. I freaking love chihuahuas."

Vanguard Mentorship is a fancy way of saying sponsors sometimes provide smart, friendly rockstars who are happy to share career/professional advice with you. No pressure, small group chat, very innocuous. Pretty snazz if you're looking for ways to improve your life.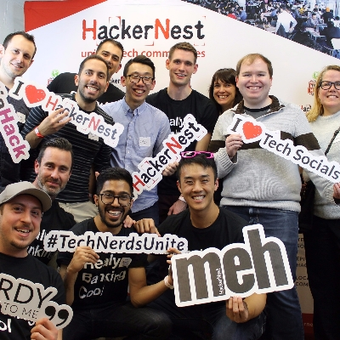 RED Academy Toronto (462 Wellington St W #101, Toronto)